In Beijing, the 3-day Microsoft Tech Summit started on November 1. 21Vianet Blue Cloud was invited to participate in the Tech Summit as a key local partner of Microsoft. In this annual "tech carnival"of Microsoft partner ecosystem, decision makers from thousands of Microsoft local partners in China gathered together to keep track of the latest Microsoft technologies. As the exclusive operation entity operating the first international public cloud products in China, 21Vianet Blue Cloud shared its experience in localizing Microsoft Cloud in the past four years.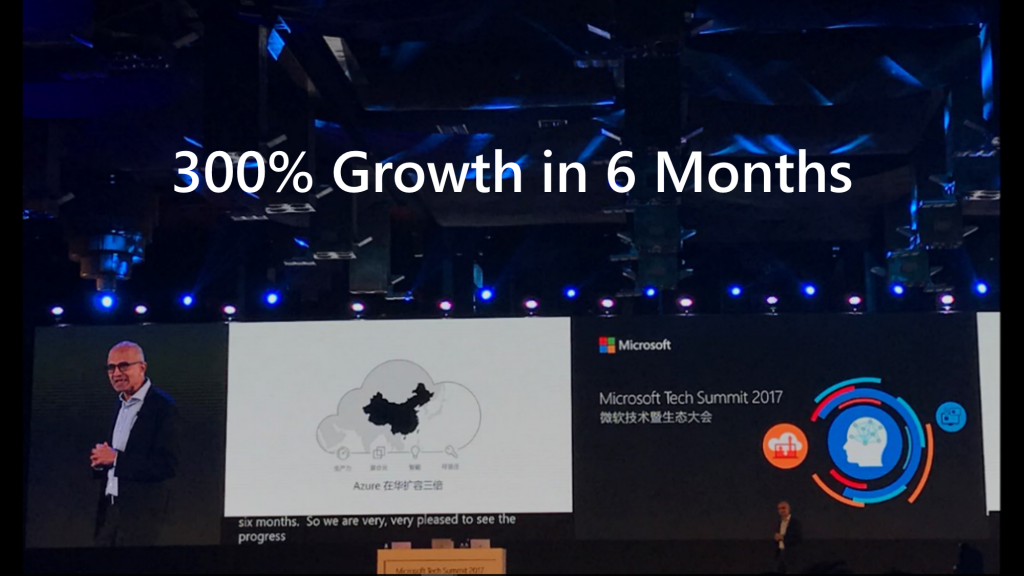 Azure China Capacity Expansion by 300%
With the rapid growth of Chinese cloud industry, Microsoft Azure operated by 21Vianet has achieved exceptional success. In the Tech Summit, Microsoft CEO Satya Nadella announced that Microsoft Azure operated by 21Vianet will complete a three-time capacity expansion in the next 6 months. Following the capacity expansion, a range of features and solutions including Azure Stack Hybrid Cloud, SQL Server 2017, and Office 365 Mini Assistant integrated WeChat platform will be launched in China.
Microsoft Azure operated by 21Vianet is the first international public cloud launched for commercial use in China. It has been partnering with over 1,300 domestic solution partners to serve over 100 thousands enterprises from diverse vertical industries. With the up-coming capacity expansion, Microsoft Azure operated by 21Vianet will better cater the special needs of Chinese domestic users, and keep providing a wide spectrum of cloud services, and consistent SLA standard. Meanwhile, it will also facilitate the migration of Azure global user experience to China to better serve Azure users from the international landscape.
Deeper Collaboration, Synchronized Landing New Functions, and Seamless Operations.
Since 2014, Microsoft Azure operated by 21Vianet and Office365 operated by 21Vianet has experienced a rapid growth, and expanding the services to cover over millions of domestic users from Internet, Finance, Education, Government, Health Care, and Manufacturing.
With the deepening collaboration between 21Vianet Blue Cloud and Microsoft, and its world-class cloud operations capacity, 21Vianet Blue Cloud has achieved global synchronization cloud landing service. In the past four years, Microsoft Azure operated by 21Vianet and Office 365 operated by 21Vianet have together accomplished landing implementations for over 200 cloud functions and solutions. The newly launched Office 365 Mini Assistant function in this Tech Summit will be launched in China as well to allow domestic users to enjoy the cutting-edge technologies in mobile office.
Just to highlight, the operations team of 21Vianet Blue Cloud contributed to the POC testing as well as take the full operations responsibility for Office 365 Mini Assistant independently developed by Microsoft China.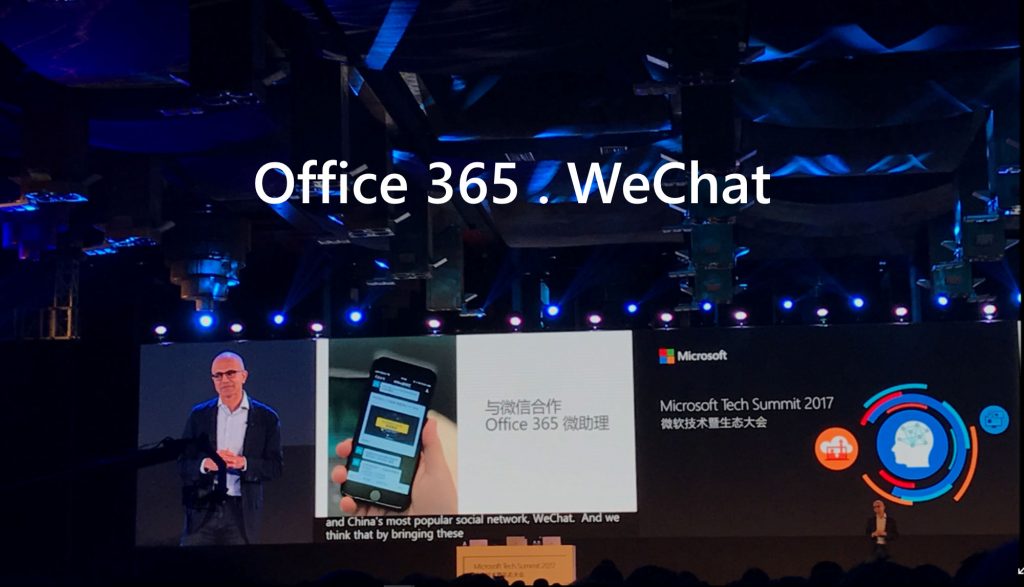 Mini Assistant, Office 365 in WeChat
Mini Assistant expands the capacity of Office 365 to WeChat platform. Users can enjoy the familiar WeChat operation interface while benefiting from the exceptional security and manageability of Office 365. It establishes a reliable channel between Office 365 and WeChat (enterprise public account) by integrating advanced productivity platform of enterprise and strong enterprise internet connector.
Mini Assistant has started a new chapter of advancing B2B communication, management, and collaboration, and largely increased the agility of enterprises'usage of mobile office.
• Fulfill efficient communication and information management
• Promote efficient team collaboration
• Ensure enterprise-class information security and manageability.
As Wing-Dar Ker, president of 21Vianet Blue Cloud said: "it is an honor to become a trusted cloud service providers by Azure and Office 365 users. With 21Vianet Blue Cloud's deeper and deeper collaboration with Microsoft on cloud technology R&D, new function launching, and cloud operations, 21Vianet Blue Cloud will keep working closely with Microsoft to keep advancing the development of Chinese cloud ecosystem, and compelling the innovation in cloud technology. Together with our partner community, we will embrace the unlimited business potential brought by technology transformation."