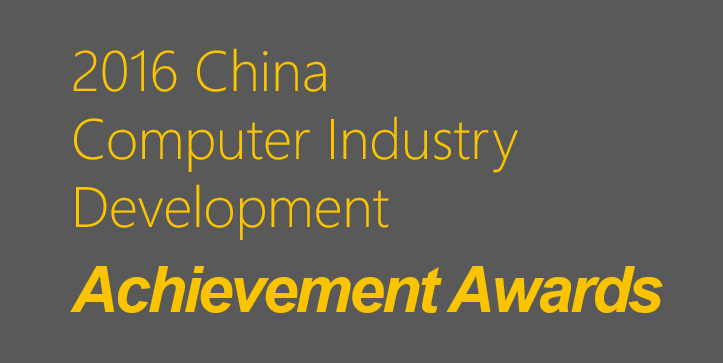 Summary: In the fourth China Computer Industry Development Achievement Awards granted by the Ministry of Industry and Information Technology (MIIT), 21Vianet Blue Cloud won the "Leading Brand in Cloud Computing Service Award". GigaTrust Solution operated by 21Vianet won the "Outstanding Case Award ". These achievement highlighted the leading position of 21Vianet Blue Cloud in China's cloud computing industry.
With its advanced cloud computing technologies as well as its reliable cloud operation service, 21Vianet Blue Cloud won the Fourth China Computer Industry Development Achievement Award and the Leading Brand in Cloud Computing Service Award. GigaTrust, an intelligent access control solution operated by 21Vianet Blue Cloud won The Fourth China Computer Industry Development Achievement Award and the Outstanding Cloud Operation Case Award.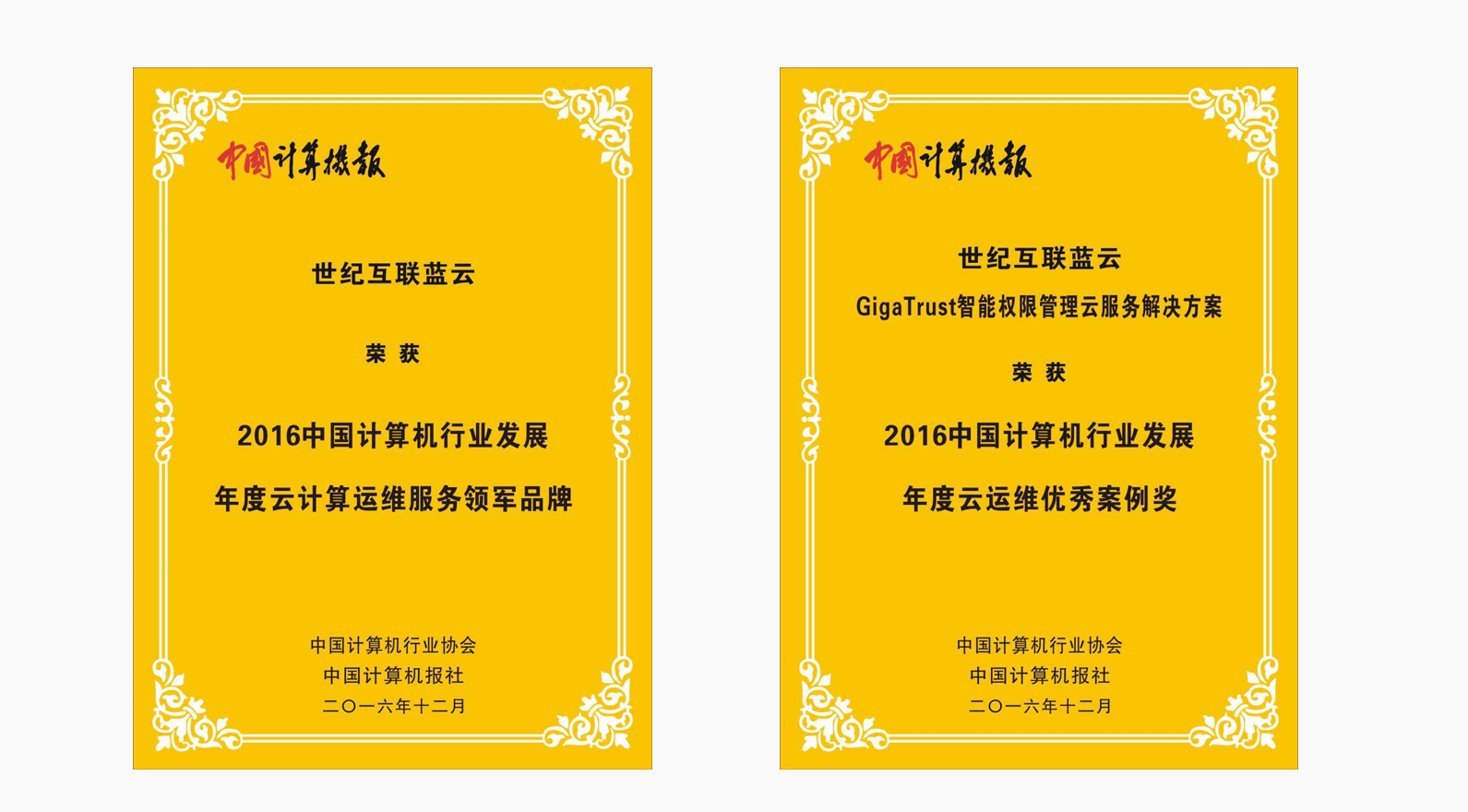 Approved by the Ministry of Industry and Information Technology, China Computer Industry Development Achievement Award is granted every two years as the highest recognition on companies that have made significant contribution to the development of Chinese information industry.
21Vianet Blue Cloud's winning shows its leading position in Chinese cloud computing industry, specifically, the best company providing cloud operation services in China.
Success from Years of Practicing
After three years operating internationally famous public cloud services, 21Vianet Blue Cloud has become a leading company in cloud operation with its professional team. In April and September of 2016, Blue Cloud participated in the Network and Information Security Expo of the third "4.29 Capital Network Security Day" and the "2016 Trusted Cloud Conference" that were hosted by the Beijing Municipal Public Security Bureau to present its world-class cloud computing technologies and achievements in cloud operation and security. Blue Cloud has also been an active player on international cloud computing stage. In the 2016 Global Cloud Computing Conference in the United States and the WPC conference in Spain, Blue cloud had in-depth discussions with its global partners, talking about the development trend of Chinese cloud computing industry and feasible routes for international cloud service providers to land in China. In December, Blue Cloud published Office 365 Practical Guide for Administrators aiming to providing administrators in enterprises with insightful instruction to leverage Office 365 in the business world.
2016 is also 21Vianet Blue Cloud's third birthday. The Vice President and secretary of China Electronics Association Xiaolan Xu, Senior President of Microsoft Asia Ralph Haupter, GM of Microsoft Cloud Computing and Enterprise Group Yuanqing Shen, President of CCID Huifeng Sun, and President of ZOL Xiaodong Liu sent their best birthday wishes to Blue Cloud through special video clips they made, and also spoke highly of Blue Cloud's achievements.
CLIC, International Clouds Pathway to Chinese Market, Aims to Prosper Chinese Cloud Computing Ecosystem
In 2016, 21Vianet Blue Cloud launched a unique strategic program "CLIC (Cloud Landing in China)"aiming to leverage its exceptional experience in helping world-class international public clouds enter into Chinese market to create a pathway for bringing more reputable cloud services from the global market into China. Ever since then, Blue Cloud has made a series of achievement in fulfilling its goal of blooming Chinese cloud computing ecosystem. In April 2016, Blue Cloud launched Safein Network Security Testing Platform, which brought a new mechanism for network security protection and inspection. In October, Blue Cloud announced its collaboration with Humanify, which brought world-class connected car solutions to Chinese users. In December, Gigatrust operated by 21Vianet was officially launched, it was considered as a milestone of SaaS based mobile office security solution in China. At Microsoft Ignite China Conference, Power BI Operated by 21Vianet was officially released, which indicated the era of more intelligent, reliable, and valuable office collaboration was coming.
Unequivocal Industrial Leader
21Vianet Blue Cloud provides its clients with financially insured 99.9% SLA (service level agreement), as well as a professional team that can provide 7/24 customer service, data center operation, and internet managed service.
In March of 2016, Microsoft Azure Operated by 21Vianet won another trusted cloud certificate. With accumulated of 9 trusted cloud certificates, Blue Cloud became the cloud service provider in China that owns the most trusted cloud certificates. Quoted from Mr. Wing-Dar Ker, President of 21Vianet Blue Cloud, "Blue Cloud has been trying to become a world class cloud service provider, and contribute to bloom Chinese cloud computing ecosystem. With the awards granted, Blue Cloud is going to keep enhancing its capacity to bring more and more international clouds into China."