SHANGHAI October 25, 2018 –- On October 25th, Shanghai Blue Cloud Technologies Co., Ltd (hereafter "21Vianet Blue Cloud") held the Microsoft · 21Vianet Blue Cloud Solution Launch Ceremony at the Microsoft Tech Summit 2018. Partners of 21Vianet Blue Cloud at home and abroad, including Binary Tree, Qingteng Cloud Security, BitTitan, AgilePoint, Avepoint, InfoCore and Riverbed, released a number of cloud innovations based on Microsoft Azure and Office 365 that can be applied in various fields and industries. While expanding and enriching Microsoft's intelligent cloud native ecosystem, these new solutions provide customers in China with a wider range of options in the era of cloud technology and digital transformation.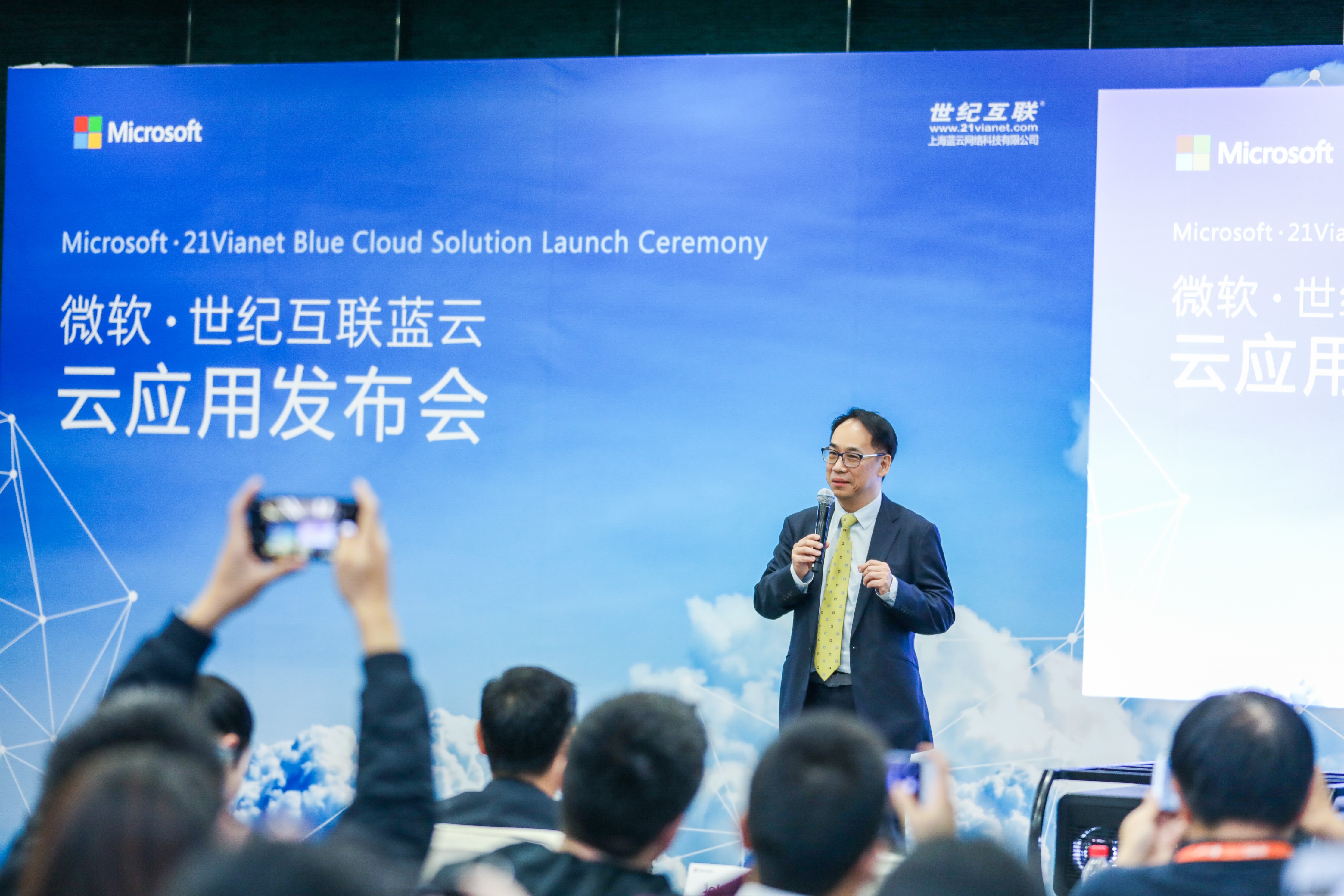 Wing-Dar Ker, president of 21Vianet Blue Cloud, said, "21Vianet Blue Cloud has been working with Microsoft for the past five years to provide customers in China with the world-class, high-quality, safe, and reliable Azure and Office 365 intelligent cloud services. This successful cooperation has set forward a benchmarking model for international public clouds to commercialize in full compliance with Chinese laws and regulations."
"Dynamics 365, which will be operated by 21Vianet locally, aims to be launched in China next spring. This world-leading CRM and ERP services, undoubtedly, inject new energy into Microsoft's intelligent cloud's development in the Chinese market."
"21Vianet Blue Cloud will continue to partner with Microsoft to accelerate the landing and development of more innovative cloud resources, at home and abroad, aiming to serve our customers with robust, versatile while reliable cloud applications and services."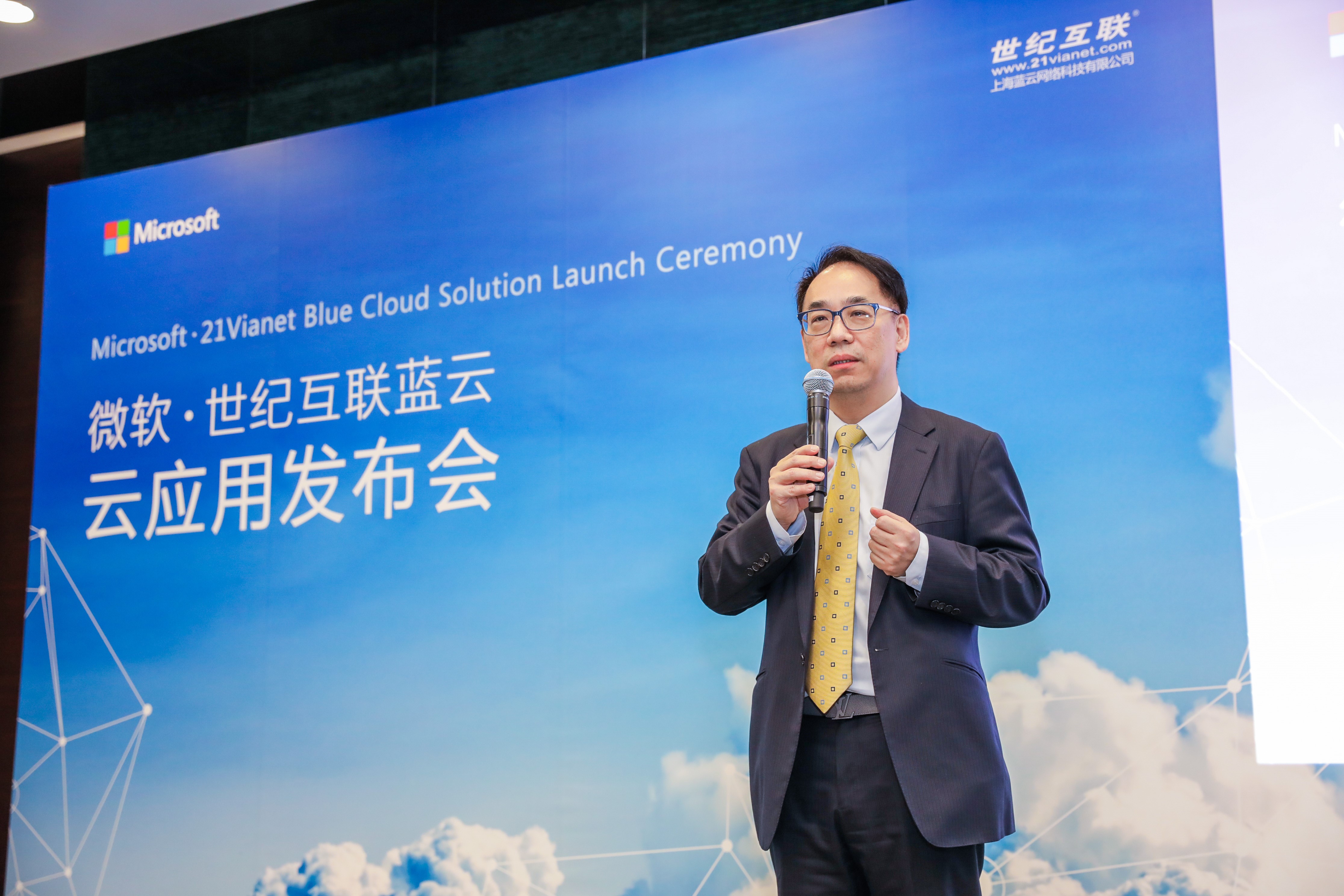 Roan Kang, general manager of Marketing & Operations and vice president of Microsoft Greater China Region, said, "Through the in-depth cooperation with 21Vianet over the years, Microsoft intelligent cloud has successfully set a precedent for the international cloud services to operate legally and compliantly in China. Today, we are able to provide the most well-rounded public cloud services covering IaaS, PaaS and SaaS in China. The public, private and seamless hybrid clouds we offer can meet the diverse needs of different types of users."
"The launch of Dynamics 365 in China will mark the complete landing of Microsoft intelligent cloud in the Chinese market, with our fully integrated cloud computing, cloud productivity and cloud business process management platforms, helping Chinese enterprises thrive in the competition of digital transformation."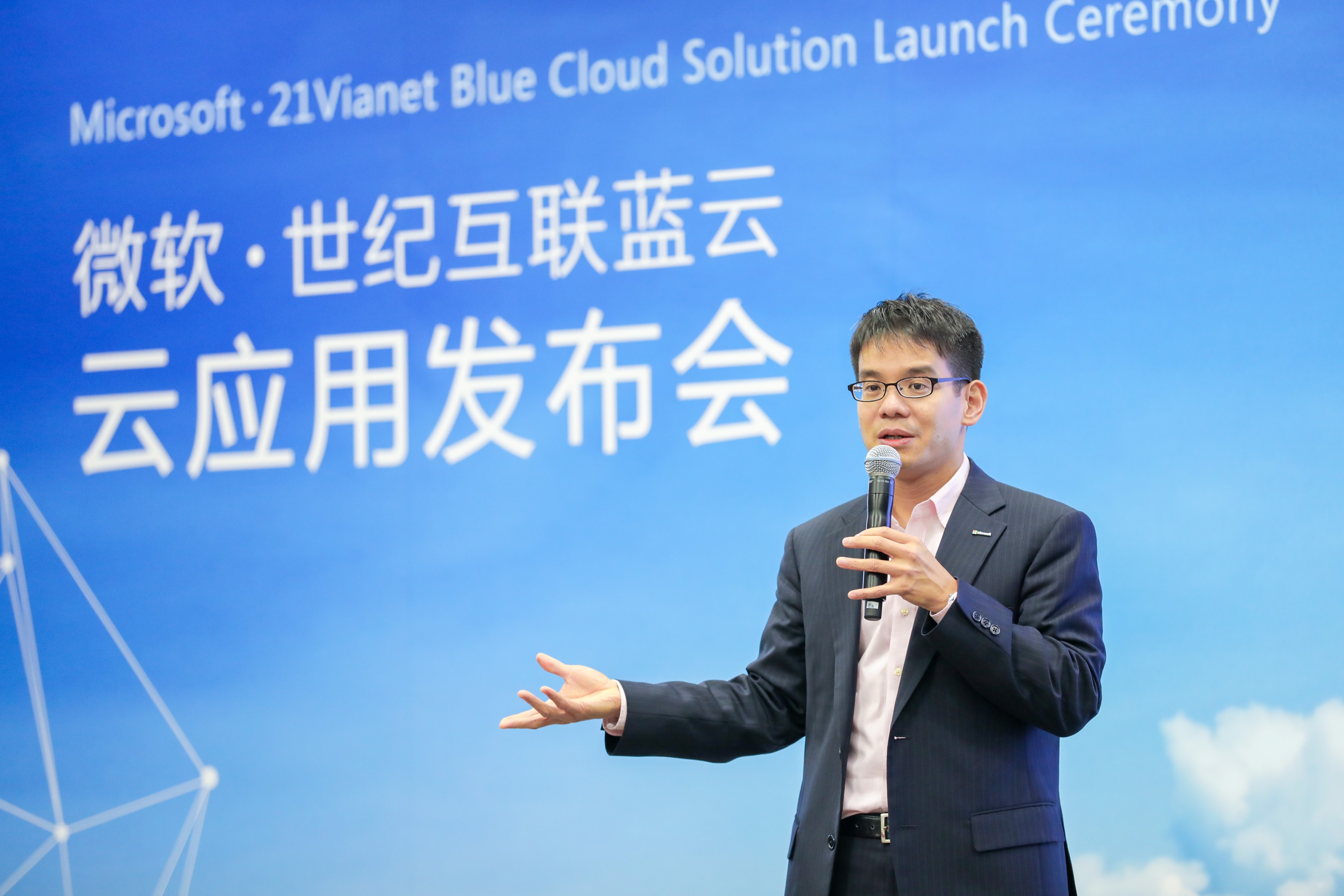 Cloud Partnerships Inject New Energy and Creativity Into Microsoft Intelligent Cloud
During the Microsoft Tech Summit, 21Vianet Blue Cloud unveiled its in-depth and strategic partnerships with Binary Tree and Qingteng Cloud Security, and announced contract renewal with long-time partner BitTitan.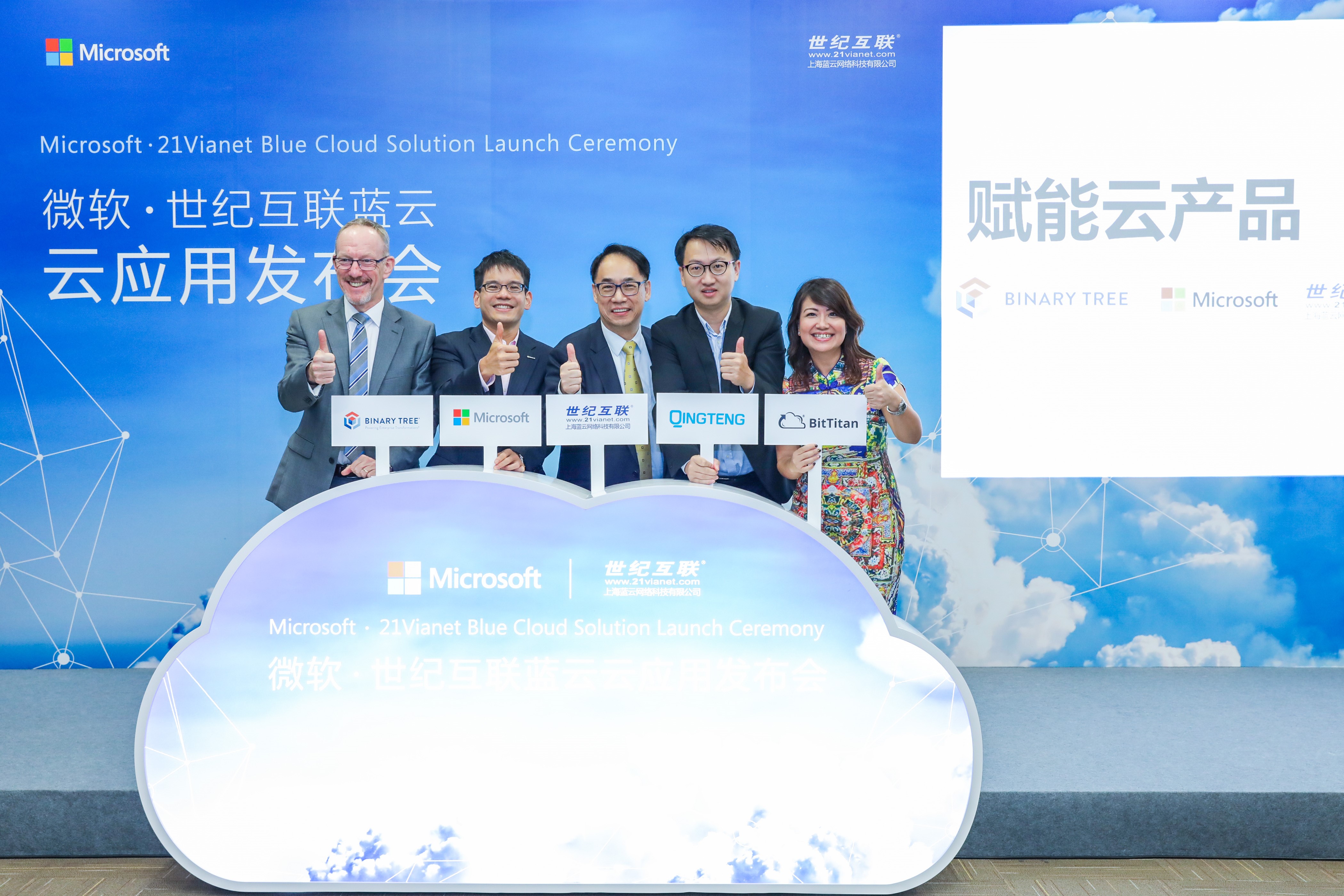 Binary Tree's Notes Integration enables synchronization across multiple platforms — Notes, Exchange, and Office365 — helping users achieve a smooth transition during the migration.
Nick Wilkinson, CEO of Binary Tree, said, "With the strong growth of Office 365, many organizations are seeking advanced tools to seamlessly migrate from legacy environments, such as Lotus Notes, and to enable tenant-to-tenant migration within the Microsoft environment."
"We are very excited to partner with 21Vianet Blue cloud, the premier cloud-computing solution and service provider, to offer our solutions in the Chinese market."
Qingteng Cloud Security delivers server and cloud security based on Adaptive Security Architecture, which can forecast, defend and adapt to fend off new threats.
Du Cheng, COO of Qingteng Cloud Security, said, "21Vianet Blue Cloud has a proven track record of providing world-class operation and service experience with its well-developed channel management system and market penetration strategy; while Qingteng provides professional host security solutions and high-quality, efficient services."
"The two of us work hand in hand. Blue Cloud gives Qingteng a bigger stage to perform, while Qingteng supports Blue Cloud in building a win-win ecological chain where everybody gets their fair share. We did not hesitate to choose 21Vianet Blue Cloud to be our partner, and are tremendously proud of this collaboration."
The BitTitan data migration solution operated by 21Vianet helps enterprises save up to 10 times' data migration time on the cloud.
Geeman Yip, founder and CEO of BitTitan, said, "BitTitan is proud to have partnered with Blue Cloud for the past three years. Empowering resellers and companies in China to easily transition to the cloud with MigrationWiz will continue to be a focus."
"As a team, we are looking forward to expanding the automation services of MigrationWiz in the future. Together, we see tremendous cloud opportunity and through our partnership look forward to accomplishing more on the cloud frontier."
The collaboration between 21Vianet Blue Cloud and Microsoft has created a sustainable and reliable model for the international public cloud operations. This successful experience has attracted more cloud service providers choosing 21Vianet Blue Cloud's full-lifecycle, ONE-STOP solutions to enter into the Chinese market.
21Vianet Blue Cloud has successfully signed agreements with AgilePoint, AvePoint, Shenzhen Fadada Network Technology Co. and UnifyCloud at the Microsoft Inspire 2018 Worldwide Partner Conference in July. The new partnerships with Binary Tree and Qingteng Cloud Security enrich 21Vianet Blue Cloud's growing partner network.
As cloud computing advances in China, 21Vianet Blue Cloud will continue its CLIC (Cloud Landing In China) strategy and facilitate deeper collaboration with its partners. 21Vianet Blue Cloud is committed to being the enabler of China's cloud computing industry, enriching the cloud ecosystem and digital economy in China.
About 21Vianet Blue Cloud
Shanghai Blue Cloud Technologies Co., Ltd (21Vianet Blue Cloud) is a wholly-owned subsidiary of Beijing 21Vianet Broadband Data Center Co., Ltd. We are the one-stop operator of cloud services and strategic partner of Microsoft that operates Microsoft Azure, Office 365 and Power BI in China.
21Vianet Blue Cloud delivers world-class cloud operation in China with over 400 professionals offering comprehensive cloud computing services, including Infrastructure as a Service(IaaS), Platform as a Service(PaaS) and Software as a Service(SaaS). As a leading local cloud computing service provider, 21Vianet Blue Cloud offers a renowned international cloud computing service platform – secure, mature and intelligent – the first official and commercial one of its kind in China. For more information, visit https://en.21vbluecloud.com/home.html or contact us: contactus@oe.21vianet.com.
About Microsoft
Microsoft (Nasdaq "MSFT" @microsoft) enables digital transformation for the era of an intelligent cloud and an intelligent edge. Its mission is to empower every person and every organization on the planet to achieve more.
About Binary Tree
Since 1993, Binary Tree has transformed more than 8,000 global clients and 42 million users, including 7.5 million users to Office 365. The company is a Microsoft Gold Partner and a globally preferred vendor for Office 365. Its award-winning software and services help companies modernize email, directories and applications by moving and integrating them to the Microsoft cloud.
About Qingteng Cloud Security
Qingteng Cloud Security was founded in 2014. As the pioneer of Adaptive Security Architecture in China, Qingteng is dedicated to serving governments, operators, internet enterprises, financial institutions etc. with its robust and stable host security prevention solutions. Qingteng is headquartered in Beijing with R&D center in Wuhan and office in Shanghai and Shenzhen. The wide presence speaks to Qingteng's ambition to provide technology and support for clients around China.
About BitTitan®
BitTitan® empowers IT services professionals to properly assess, deploy, and manage technology solutions in a cloud-first world. With BitTitan MSPComplete®, an IT services automation platform featuring BitTitan's globally renowned MigrationWiz® solution, IT professionals can organize, optimize, and automate service delivery. BitTitan has helped more than 33,000 customers deploy IT services to 11 million employees in 155 countries.